We all know about Sears Roebuck houses and Montgomery Ward houses.
But what about Macy's houses?
In 1963, Macy's, along with builder All-State Properties, introduced the Leisurama summer homes.
The Leisurama homes were to be built in Montauk, New York and Lauderhill, Florida. The concept was that these would be fully equipped, "all-in one" vacation houses. For one price, customers would get a 7,500 square foot lot, the house, all furnishings (including sofas, beds, lamps, pots, dishes, towels, toothbrushes), General Electric appliances (refrigerator, range, washer/dryer combo unit, dishwasher), and central air conditioning.
"All you have to do is turn the key in the lock and start living," said Macy's at the time.
Macy's would supply the interior furnishings, and All-State Properties would supply everything else.
This was the Convertible model, the most affordable option. Triple windows, low-pitched roof, a recessed door, and a carport. It was for sale for $13,490 ($590 down, about $73 per month).
This illustration shows the Expanded Convertible model. It was for sale for $16,490 ($990 down and $90.90 per month).
A list of what was included with a Leisurama house. Scan from Designcommunity.com.
The whole concept of an all-in-one beach house was cool, but what took it next-level was that Macy's built Leisurama houses at two of their stores and customers could buy one on the spot.
Two Macy's stores had Leisurama homes available to tour: Macy's flagship Herald Square in downtown NYC and Macy's Roosevelt Field on Long Island. The Herald Square store built the house on the ninth floor; the Roosevelt Field store built the house in the parking lot.
The Leisurama Convertible built inside Macy's Herald Square. 1964 photo from Leisurama Now by Paul Sahre.
Would people actually impulse buy a vacation home? Oh, yes, they did. Here's the story of one shopper, quoted from a 2003 New York Times article.
For this reason, an entire Leisurama house was built in 1964 on the ninth floor of Macy's department store in Manhattan. Shoppers, mostly women, could tour the house and test-drive the state-of-the-art appliances. Laura Goodman, a librarian and mother of two, was one of the wives who did.
''She went to Macy's to buy a bra,'' her husband, Roger, deadpans for the camera.
''Not true,'' Mrs. Goodman insists, laughing. ''He's so full of it.''
Her husband continues without pause: ''And she came home and she said: 'I bought a house. We're going out to Montauk. We're buying a house in Montauk.' And I put up my usual resistance. I said, 'O.K., dear.'''
Laura Goodman in front of her Leisurama house. Photo from the defunct website leisurama.info.
From 1963-1965, about 200 Leisurama homes were built in the Montauk area, according to author Paul Sahre. The Leisurama homes business was not profitable--the developer underestimated the costs to construct the homes.
An Expanded Convertible model in Montauk today. Photo from Wikipedia.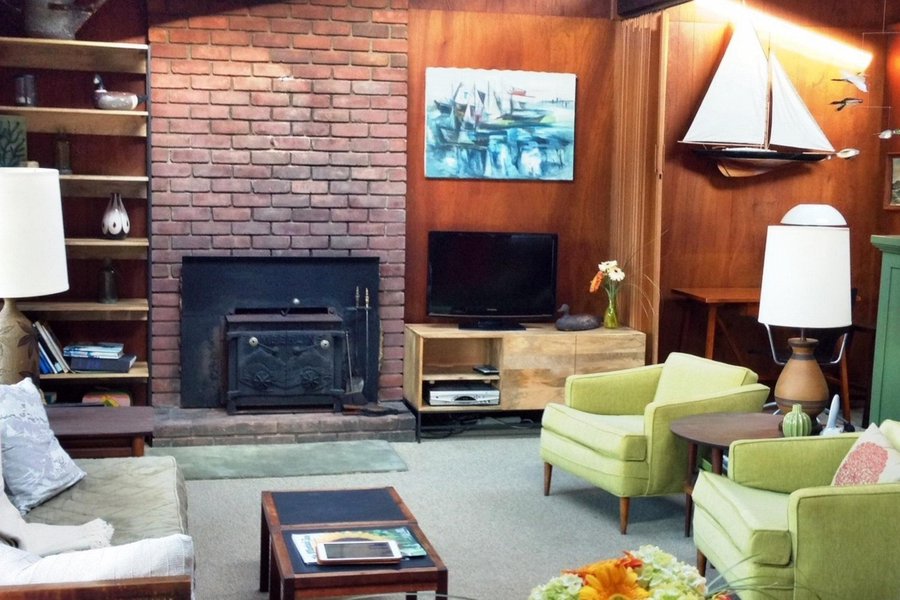 The interior of a Leisurama house in Montauk, with some of the original furniture and decor from Macy's. Photo from The Corcoran Group.
In Lauderhill, only a handful of homes were built. They had different Leisurama models than the ones in the Montauk area.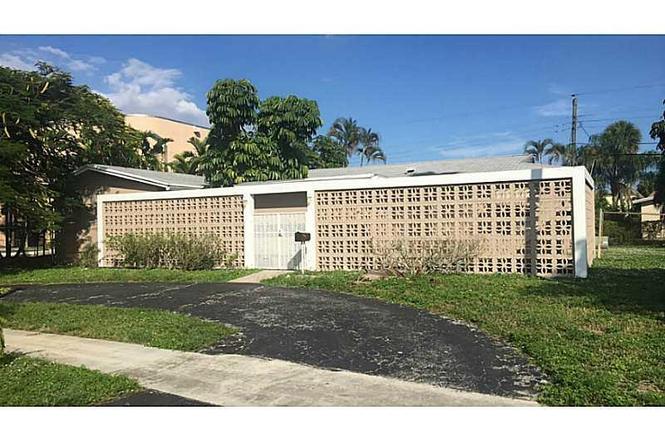 Leisurama home at 1166 NW 42nd Way, Lauderhill, FL. Photo from Realtor site.