Cary has two authenticated Sears houses side-by-side on East Main Street. They also have two authenticated Sears houses where we know the addresses, but they remain unidentified nonetheless. Maybe you can solve this mystery.

The Main Street Sears Houses
Let's see the two Sears houses on Main Street first.
138 E. Main St., Cary.
Sears Concord.
First up is a Sears Concord. I realize the house doesn't precisely match the catalog illustration, but Sears often customized the split level homes of the early 1930's--adding and removing dormers, making the houses extra wide, adding bay windows, moving the fireplaces.
Mayme and Leonard Parker received the mortgage from Sears Roebuck in December 1932. They paid $10,000 for the house. Leonard was a factory manager. They moved out around 1942.
The entry showing a Sears closet door and a Sears newel post. The front door is new. Photo from Realtor site.
A good look at the original Sears doors and door hardware.

Photo from Realtor site.
Is that the original tub?

Photo from Realtor site.
Next door to the Concord is a Plymouth model from Sears.
148 E. Main St., Cary.
Sears Plymouth. Scan from Antique Home.
The Sears Plymouth in Cary has lost its front porch, but is still identifiable as a Plymouth.
Jorgen and Hulda Gregersen were Danish immigrants who purchased the house in September 1933. They received their mortgage from Sears Roebuck. Jorgen died in 1935 and Hulda moved soon afterwards.
The Mystery Sears Houses in Cary
I have Sears mortgages and legal descriptions for two houses in the same neighborhood that front the Fox River. They were built in 1921. I can only see the backs of the homes and cannot get a good look at the fronts to determine the models. The street addresses are: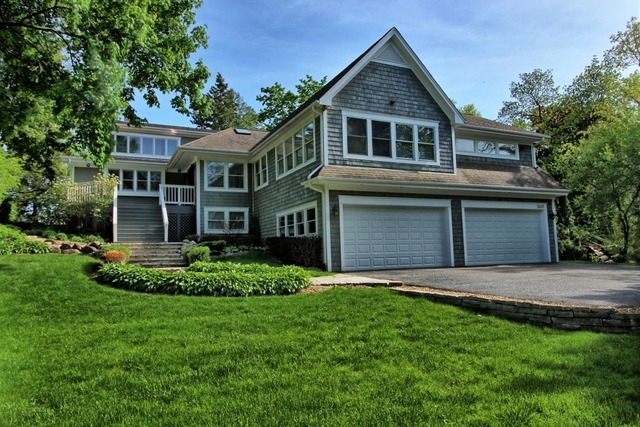 The street side view of 2119 Root Lane, Cary. Not helpful. The county says it was built in 1921 so the original Sears house is in there somewhere. Photo from Realtor site.