The Garrison Colonial was a wildly popular style in the United States from about 1925 to 1955. You
will recognize
this house--it's omnipresent.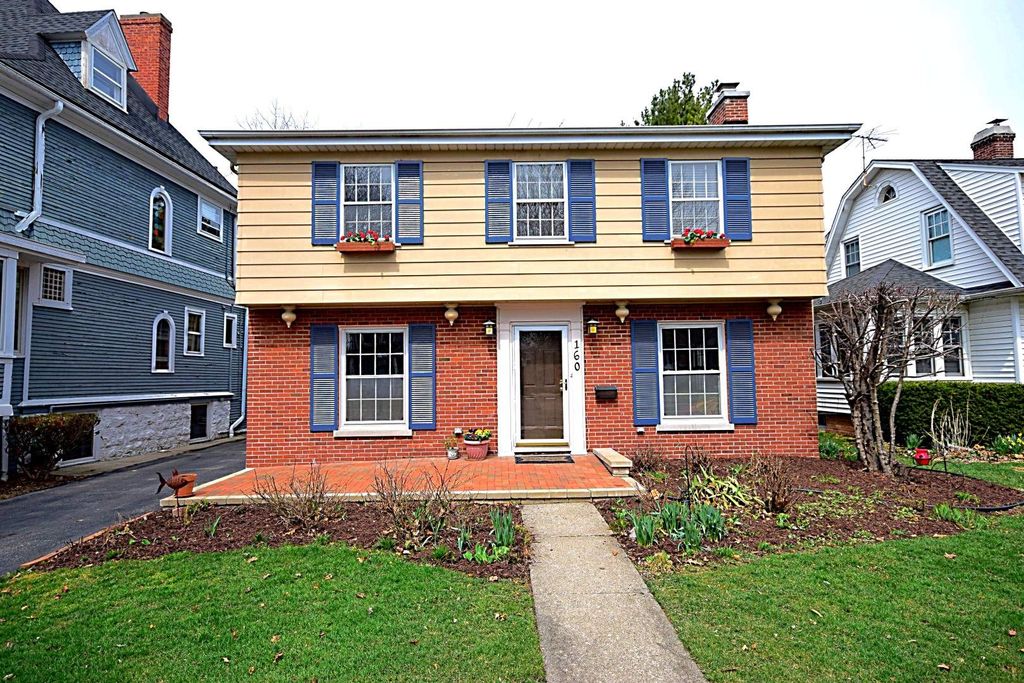 A Garrison Colonial in Riverside (not a Sears house though).

There a couple distinguishing characteristics of the Garrison design. It has a cantilevered second floor, and this overhang creates additional living space on the upper floors. There are decorative wooden pendants beneath the overhang, often in teardrop shapes. The upper level is often wood siding and the lower level is often brick or stone.
Sears sold several Garrison style colonials in the 1930's. Unfortunately, the simpler Sears designs are impossible to identify by appearance only since they look like so many other non-Sears houses.
Take the Sears Alden, sold from 1933 to 1935.
The Sears Alden has all the classic features of a Garrison Colonial. It included stone on the front of the lower level with brick on the remaining three sides. Many people believe they own Aldens, but they need solid authentication to prove they are from Sears Roebuck.
Researchers have identified three Aldens to date--two of which are in the Chicago area.
All three Aldens have been authenticated.
Let's take a look at our Aldens.
Glen Ellyn
212 N. Park Boulevard, Glen Ellyn. Obviously the dormers and the porch overhang are not original. Blurry photo from Realtor site.
Researcher Chuck Holtzen uncovered the Sears mortgage issued to Lawrence F. Triggs in July 1932. Lawrence took out a loan for $9,000 to build the Alden. (You'll notice the price in the catalog for the Alden was $2,418. This gives you an idea of the true price to build a fully outfitted Sears house.)
Lawrence was a copywriter for an ad agency. By 1940, he and his family had moved to Westchester NY.
Those are the original pendants.
Photo from Realtor site.
Photo from Realtor site.
Photo from Realtor site.
Many Sears houses in the 1930's had that door. Photo from Realtor site.
Evanston
2108 Harrison, Evanston.
Researcher Rebecca Hunter authenticated this Sears Alden. The house was built in 1932 for A.P. Bradley, and the cost was $10,000 (about what the Alden in Glen Ellyn cost all inclusive).
The builders of this Alden were the Blume Bros--contractors from Des Plaines who built dozens of Sears houses around the area. I suspect that Sears listed the Blume Bros as one of their recommended contractors.