8935 Richard, Highland, IN. Photo from Realtor site.
The 10 new models introduced in the 1939 Sears Modern Homes catalog are difficult to identify, due to their nondescript styling. Some of these "Rare 10" models have never been seen before--one of these is the Sears Lynn.
"More than often simplicity means good taste." Sears used this phrase to describe the Sears Lynn. This simplicity is what makes the house so tough to identify out in the wild.
The Minimal Traditional housing style gained traction in the 1930's and stayed popular until the early 1950's. There are entire neighborhoods filled with houses that resemble the Sears Lynn.

Sears Homes of Chicagoland reader Jill Grusak contacted me about her authenticated Sears Lynn in Highland, Indiana. Authentication is the only way to ensure that a Minimal Traditional house is actually from Sears.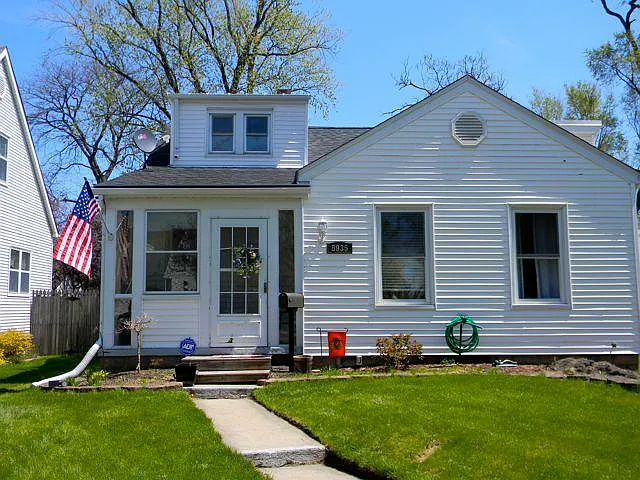 Another exterior shot of the Lynn. Photo from Realtor site.
This Lynn has been through a lot of changes over the years--at one time it was even a two-flat. According to Jill, "Our porch was enclosed and the attic is finished with a dormer up front. We also have an enclosed outside staircase from when this was a two flat."
Photo from Realtor site.
Photo from Realtor site.
That doorway leads to a stairwell off the kitchen. Photo from Realtor site.
Photo courtesy of Jill Grusak.
The "Tomorrow" line of door hardware from the 1939 Sears Building Materials catalog.
A shipping label from Sears found in the house. It says the shipper was "The Norwood Sash & Door Mfg Co.", which was a millwork company acquired by Sears Roebuck. The Norwood, Ohio facility fulfilled the house orders in the late 1930's. Photo courtesy of Jill Grusak.

The Sears Lynn in Highland was built by May 1940. William and Ione Hoover were the original owners. He was a car repairman for the Standard Oil refinery in Whiting, Indiana.
Grease pencil markings. 8478 corresponds to the Sears order number listed on the shipping label. Photo courtesy of Jill Grusak.