A famous house is the Sears Mitchell that Laura Ingalls Wilder lived in from 1928-1936.
Technically it is not a Sears kit home; however, it was built using plans from Sears.
Rose Wilder Lane, Laura's daughter, built the Mitchell for Laura and her husband Almanzo in 1928. Rose had become a successful writer and wanted to give a new house to her parents as a Christmas gift. Rose picked out the house from the Sears Modern Homes catalog but had the Mitchell built using local materials, not pre-cut materials delivered from Sears. Rose wanted stones on the exterior and not wood shingles. The Mitchell was customized on the interior as well and it cost over $11,000 to build.
The house was built on the 180-acre Wilder property outside Mansfield, Missouri. Rose moved into her parents' old farmhouse and Laura and Almanzo moved into what the family called the "Rock House".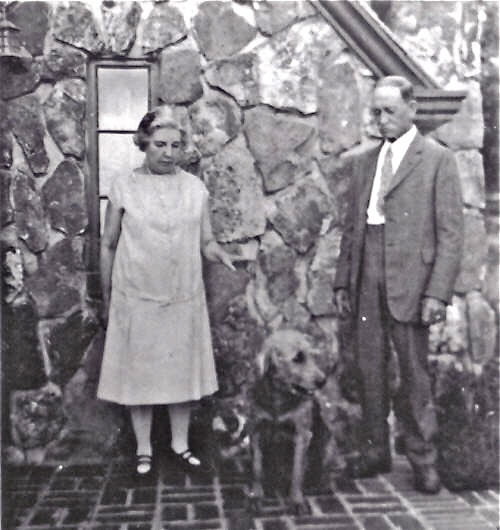 Laura, Almanzo, and Nero in front of the Rock House. Photo courtesy of wendymcclure.net.
In the Rock House, Laura hand wrote the first four books in the Little House series: Little House in the Big Woods, Little House on the Prairie, On the Banks of Plum Creek, and By the Shores of Silver Lake.
In 1936, Rose moved to Connecticut and the Wilders moved back into the old farmhouse. They told Rose they were homesick. The Wilders sold the Rock House and the adjoining 40 acres to a neighbor. They lived in the farmhouse until their deaths (Laura died in 1957 at the age of 93).
Today, the Laura Ingalls Wilder Home Association owns the Rock House. The house was restored in the 1990's. The house has four bedrooms, two bathrooms, a living room and a dining room. The floors are pecan wood. The Rock House is open for tours, but no interior photos are allowed.