3227 N. Keating. Screenshot from Google Streetview.
Montgomery Ward model No. 179, from the 1916 Book of Homes.
This house in Irving Park/Kilbourn Park is a No. 179 model from Montgomery Ward. This is the only known No. 179 in the country.

The building permit was issued in September 1913. Montgomery Ward estimated that the house would cost about $2,385 including labor. It actually cost $11,500 to build this house.
The house is a bland two-flat today, but back in 1913 it was a charming bungalow featuring stuccoed gables, bay windows, a seating nook, and leaded glass windows.
The house and a testimonial from its owner, Thorvald Lindboe, were featured in the Wardway catalogs in 1915 and 1916.
Thorvald believed the house was in the Grayland neighborhood, but it's actually just north of Belmont Avenue.
The bungalow on Keating was lovely back in 1913.
Thorvald did not purchase the fireplace (fireplaces were extra cost).
Thorvald Lindboe was featured in newspapers around the world a few years before the house was built. His brother, Olaf Lindboe, was a victim of Belle Gunness, America's first female serial killer. Gunness, the "Black Widow", killed dozens of men (and her own children) for their cash and life insurance payouts.
Thorvald Lindboe's interview with the Chicago Tribune, May 1908.
Belle Gunness.
Olaf immigrated to the United States from Norway along with his brothers Ole and Thorvald. Olaf worked as a laborer on a farm in Wisconsin and diligently saved his money (he had over $300 and a gold watch according to Thorvald).
Olaf Lindboe in the Chicago Tribune, May 1908.
In 1904 Olaf answered an ad in a Scandinavian newspaper that was placed by Gunness, She was looking for a farmhand for her property in LaPorte, Indiana. Olaf accepted the position and swung through Chicago to visit Thorvald on his way to the Gunness farm.
A few months later, Olaf sent Thorvald a letter and said he planned to marry Gunness. That was the last contact Thorvald had with his brother.
Thorvald, concerned, wrote Gunness to inquire about his brother. Gunness wrote back that Olaf had gone to St. Louis and she never heard from him again.

When Thorvald went to LaPorte to check on his brother's whereabouts, people in the community said that Olaf and Gunness were romantically involved. When Olaf disappeared, Gunness told one neighbor that, "He got mad and left me in the lurch. He said he was tired because I was putting him off so long and last night he wanted me to say whether I would marry him at once." She told another neighbor that she received a letter from Olaf saying he returned to Norway.
The story of Olaf's disappearance was reported all over the world.
Thorvald was unable to identify his brother's body from the remains found on the Gunness farm. Olaf is considered by all accounts to be one of Gunness's first victims.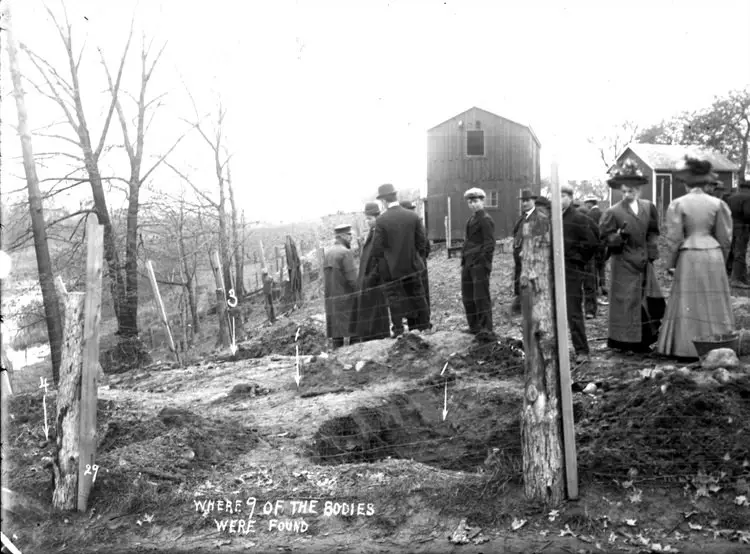 Investigators on the Gunness farm in LaPorte, searching for human remains. Photo courtesy of Murderpedia.